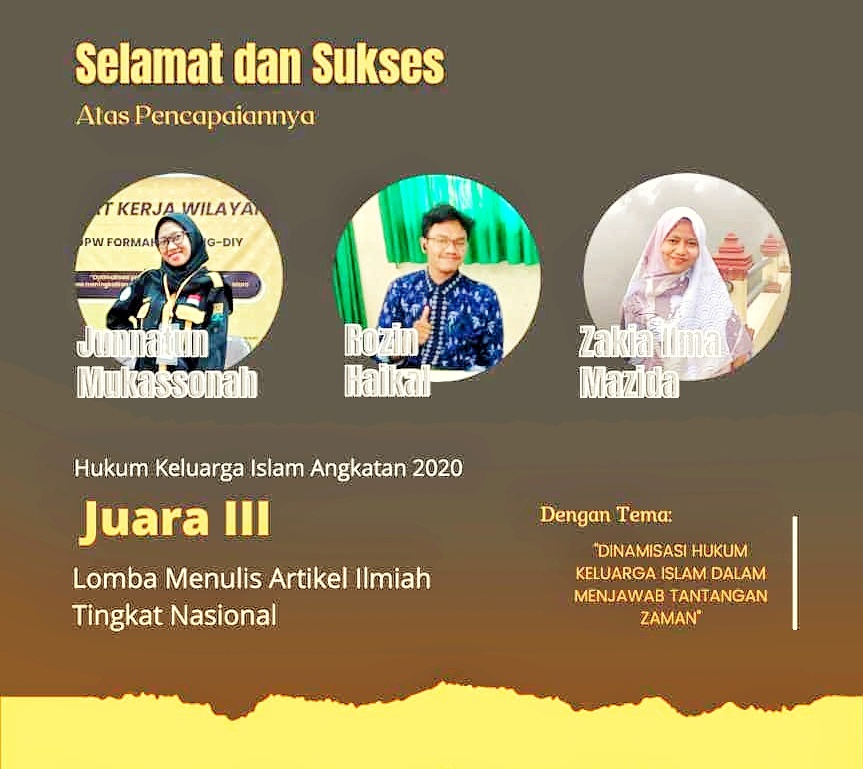 The team photograph
The Research and Writing Team of the Islamic Family Law Department (HKI), Faculty of Sharia and Law, UIN Sunan Kalijaga Yogyakarta, won third place in the National Scientific Article Writing Competition held by HMPS, Faculty of Islamic Religion (FAI), Universitas Muhammadiyah Sumatera Barat. The competition took place from February 25 to March 20, 2022.
After going through all stages of selection, the three students: Junnatun Mukassonah, Rozin Haikal, Zakia Ilma Mazida—batch of 2020—successfully won the third podium. Under the theme "Hukum Keluarga Islam dalam Menjawab Tantangan Zaman [Islamic Family Law in Responding to the Challenges of The Current Era]" in their writings, the three students assured the judges that the era of disruption needs to be addressed starting from the private level. In this context, it is a legal policy that regulates marriage and other family law issues. Family law is a navigator for nation-building in the most private sector. Due to the global situation, dynamically changing, it is necessary to respond with a family law policy that is responsive to the development of recent reality.
The three students feel grateful to be able to commence the 2022 year with achievement and to contribute their thoughts in the form of a scientific paper. The three are determined that if there is an opportunity in the future, they wish to continue to participate in various competitions that build their capabilities in the field of research, especially family law research. The three of them also aspire to be able to produce authentic works published in reputable journals one day.
Finally, thanks are conveyed to the Islamic Family Law Department, the Faculty, and especially the HMPS HKI UIN Sunan Kalijaga (@hmps_hkiuinsuka) who have more or less encouraged Jannatun et al., in participating in the competition. (fs/tn/jh)