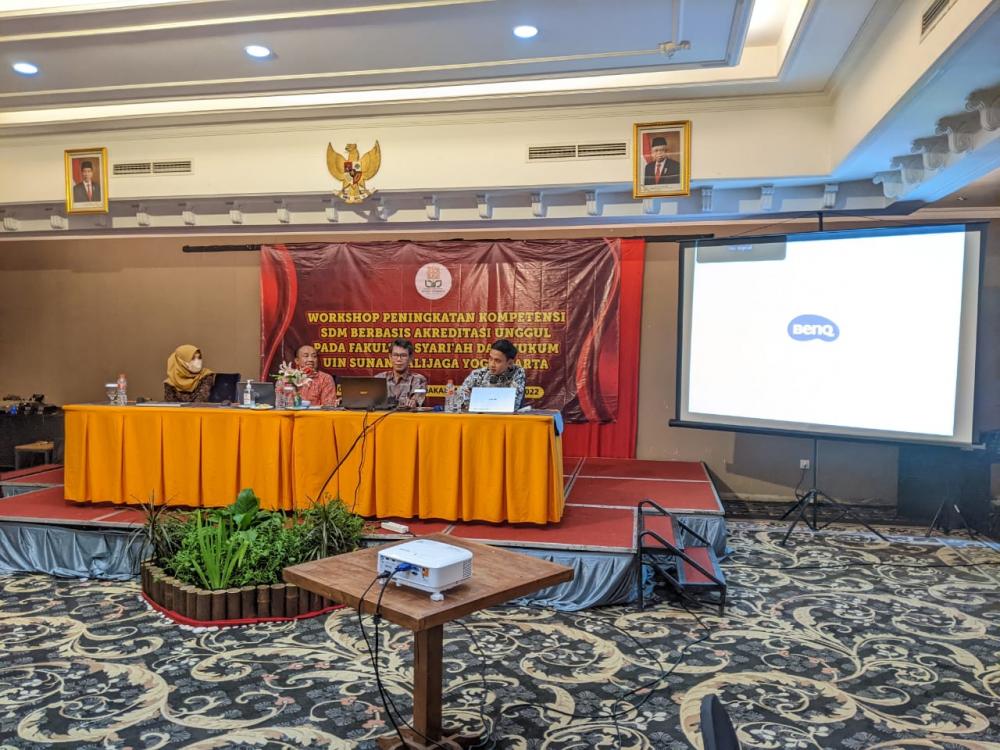 The HKI Department representatives (Bustanul Arifin, right) presents the evaluation and action plans of 2023
Located at the Adhiwangsa Hotel Solo, Sunday, March 27, 2022, the Islamic Family Law Study Departement takes part in the Workshop on Increasing Human Resources Competence Based on Unggul Accreditation organized by the Faculty of Syari'ah and Law (FSH) at UIN Sunan Kalijaga Yogyakarta. Dean of the Faculty of Sharia and Law Prof. Dr. Drs. H. Makhrus, M.Hum emphasized the importance of long-term planning to prepare the work program of the Faculty of Sharia and Law towards Unggul Accreditation.
The workshop which lasted for three days is attended by faculty leaders starting from the Dean, Vice Deans, Head of Departments, and Secretary of Departmentsas well as related officials in the faculty. In his speech, the chairman of the committee, Dr. H. Riyanta, M. Humsaid that this workshop is part of a series of preparing the coming action plans. "In addition, it is hoped that this workshop is a form of synergizing the performance of the lecturers in completing all the prepared tasks", he added.
After opening ceremony, the event continued with reporting: (1) agendas that have been done in the previous academic year,(2) agendas that areplanned to be the 2022 and 2023 Action Plans. All conveyed by vicedeans I, II, III. This ismoderated by Dr. Abdul Mujib, M. Ag. After the first reporting, the evaluation is continued by the Head of Doctoral Program (S3) and Master Program (S2),Head of HTN Department, HKI Department, IH Department, PM Department, and HESDepartment, Head of FSH Laboratory and last but not leastthe evaluation and action plans from the Journal House of FSH.
The Evaluation and Action Plan of the Islamic Family Law Department was delivered by Bustanul Arifien Rusydi, MH, In his presentation, he socialized thatthe Family Law Department has conducted various programs that are integrated with academic activities, both in the form of teoretical lectures and practical activities outside the campus in the form of SKPI, PKL and Internships at Religious courts. All that activities are the backbones of the Departement core points. Furthermore, "what should be highlighted is how the Departmentmanagewith a certain mechanism to reach alumni for administrative purposes as well as data bank collection in tracer studies", he added. (tn/jh)