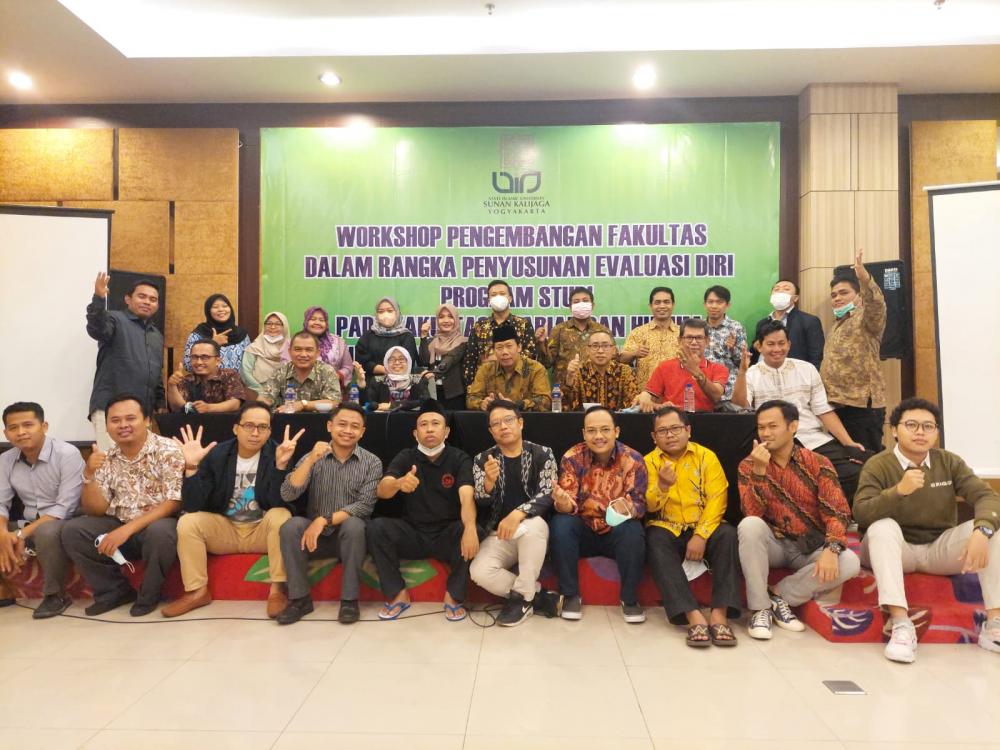 Committee Photo
Thursday-Saturday, March 3-5, 2022 at @K Hotel Kaliurang, the Faculty of Sharia and Law held a Workshop to complete the requirements and simulation of Instrument Supplement Conversion (ISK) submission towards higher accreditation for all departments. Previously, it had been held at the Hall Ross In Hotel. Profound appreciation is delivered by the Dean of the Faculty of Sharia and Law State Islamic University (UIN) Sunan Kalijaga Yogyakarta, Prof. Dr. Drs. H. Makhrus, SH., M.Hum to the ISK team who have worked hard night by night to complete all the needed instruments. "We have great hope that in the future we will get the best results thanks to this endeavor," he spoke at the opening ceremony.
This workshop activity aims to compile documents for the completeness of ISK accreditation. Therefore, the committee invited resource persons, namely Dr. H. Abdul Mujib, M.Ag and Nurchman, M.T, as Lecturers of Informatics Engineering, Faculty of Science and Technology, who have succeeded in compiling ISK and getting excellent accreditation results from BAN-PT.
For the Islamic Family Law Department, the teams that took part in this accreditation application were the previous team, namely: Head of the Department (Yasin Baidi, S.Ag., M.Ag.), secretary of the Department (Dr. Siti Muna Hayati, MHI), and members (Ahmad Syaifudin Anwar, M.H; Bustanul Arifien Rusydi, M.H; Taufiqurohman, M.H; and Muhammad Jihadul Hayat, SHI, MH).
The team mapped and collected all documents required for submitting the ISK. The documents that have been collected are then compiled in the form of a file based on the BAN-PT criteria.
From these activities, the resource persons recommended that the department immediately arrange the completeness of the documents needed so that the field assessors will later provide the maximum value. Therefore, in this workshop, the Heads of the Departments and the Drafting Team studied seriously, took an inventory, compiled, and created links to documents needed by interested parties, especially the assessor team from BAN-PT. (jh/tn)